Popular home décor trends that will dominate 2014
Renew. Rejuvenate. Reinvigorate. The same objectives people have when making their personal New Year's resolutions can be just as easily be applied to their homes. There's no better time to give a home a fresh look, whether it's incorporating a new color palette, adding accessories, repurposing furniture or putting something interesting up on the walls.
A kaleidoscope of color
Residential interior designer Gary McBournie recommends happy hues such as turquoise for a kitchen, chartreuse for a dining room and coral for a bedroom. Roger Hazard, a Sharon Springs, N.Y. designer who starred in the Emmy-nominated "Sell This House," agrees that color palettes will embrace a variety of bold, punchy accent colors but also notes a seismic shift in neutrals from the "brown fatigue" of browns and beiges to bright gallery whites and truly neutral grays. Purples can be paired with accents of copper and well-worn leather in a masculine den; layered with gold, gray and white for an elegant bedroom; or highlighted against subway tile and chrome fixtures for a statement master bathroom.
Every wall has a story
Todd Imholte, president of Murals Your Way, predicts that wall murals will be even more popular this year as more homeowners and business owners embrace this unique, distinctive way to transform any room. Simple to install and remove, Murals Your Way's more than 750,000 images, along with the ability to create a personal mural from a photograph, make wall murals an attractive and affordable design trend.
It's only natural
Miami-based ASID and IIDA award-winning interior and furniture designer Bea Pila sees natural elements increasingly created into luxurious furnishings. Look for lamps embellished with geodes and natural gems, feather-adorned pillows and sharkskin as a rich table finish. Stone and stone veneers make for an interesting organic interior wall covering, says Debbie Wiener of My Designing Solutions, as do sticks gathered in groups as triptychs or propped up against the wall.
Lighten up
Lighting can make a key difference in a home by setting the atmosphere of a room or helping showcase decor elements. LED bulbs deliver the same warm glow as traditional incandescents but use 84 percent less energy and last up to 20 years, according to Maxwell Ryan, founder and CEO of Apartment Therapy. Interior design expert and InStyleModern.com executive Maria Samuels suggests multi-tiered chandeliers and other ornamental fixtures using LED lights to give a modern twist instead of traditional artificial illumination.
Your 2014 Home Decor Makeover: Revamping Your Office Space
Many of us would love to work from the comfort of our homes, snuggled in our favorite pair of pajamas, avoiding the troubles of the outside world. Imagine listening to the music you want without side eyes from your boss as they overhear Tupac's resonating passion seeping out of your headphones. That would be the life. Sadly, this isn't always an option. However, whether your main office is your house, apartment or a cubicle, we've got a few items to make your work space feel a lot more like home.
1. Install a Chic Storage Unit
Tuck away your important papers and files in decorative storage. It keeps everything in an area where it can easily be located and it looks great. Choose a large storage piece like the chic EXPEDIT Shelving Unit ($89.99) to store smaller boxes and decorative pieces.
2. Add More Fun Decor
You have the storage capability and now it is time to fill up that thang! This is where the perks of having a workspace come in. Show off your personality with your unique decorations. Adorning this space with personal keepsakes or accessory items that you find during your next Target rendezvous like pieces from the Cute Critter Collection ($4.98 to $42.49) will keep you inspired and focused.
3.  Pop in a Statement Lighting Fixture
Awaken your workspace and your energy with a lighting fixture that you enjoy viewing. When you aren't forced to use office fluorescents, the possibilities are endless. Add flavor to your workspace with the brightly colored Nook Glass Table Vessel Lamp ($99.00.)
4. Upgrade Your Office Chair
When considering a chair for your home office you are allowed (and encouraged) to stray away from the typical task chair. You want to find something that is comfortable for long periods of time and looks great in the space when your home office is not being used. The Yellow Floral Charlotte Chair ($195.49) adds the perfect touch of inspiration needed in a workspace. Its whimsical design and inviting arms make it the ideal chair.
5. Get a "Non-desk" Desk
Writing slumped over in your bed – what I am doing right now – is not good for your body and may will eventually cause you discomfort. "How Can I Ease The Pain?" you ask? By buying a piece like the Josephine Desk ($159.99.) It is sleek and will likely mesh well with your existing decor.
6. Display Your Reminders and Goals
I am a believer in wish boards, lists, and reminders of the big picture/end goal. Now I am not saying go all Mary Jane on your workspace, but it is important to have a visual reminder of your goals and daily tasks. The Corkboard Map ($29.75) is a unique bulletin board that allows you to design your own world. Not only will it keep you on track it can also motivate you to become more of a world traveler!
7.     Brighten Up Your Office Accessories
Your desktop accessories don't have to be dull and boring. In fact, having items that you enjoy looking at and that reflect your personality will help with productivity. An Acrylic Desktop Dock ($24.00) can accommodate your smaller business items and look great at the same time!
8.  Add a Workspace Workout Plan
That's right, put in work! Ergonomic specialist suggest that you get up and move around during the work day. On those deadline days where you are attached to your desk, make sure to take exercise breaks to maintain your sanity. Purchase small workout equipment in your favorite color like Valeo Hand Weights ($15.78.) Adding a healthy exercise break to your work day can help you maintain creativity and who knows, after getting in some reps "you might be able to pull you a rapper, a NBA player… or at least a dude with a car!"
Vanessa Wells, is a NYC comprehensive interior designer for Rodney Lawrence, Inc as well as her freelance company rouz design.
Home decor's hottest metal: Brass is back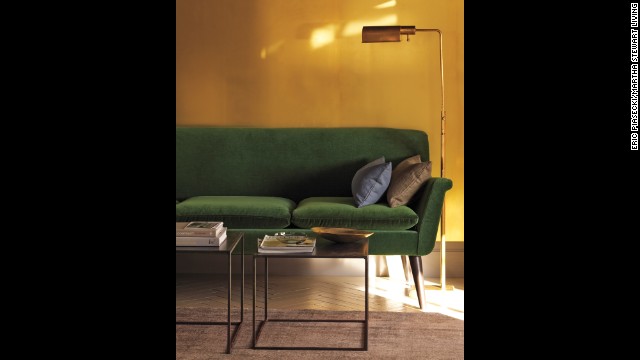 (Martha Stewart Living) — What was once considered, well, brassy, is now something to covet and keep. From small moments to large statements, today's brass is tasteful and elegant—with gorgeous patina to spare.
Brass is back.
With the appetite for nickel and chrome at its saturation point, brass is returning to the forefront of the design world. "People are rediscovering how beautiful it is," says Martha Stewart, who has amassed an impressive collection of brass treasures, particularly trays, from all over the globe.
"I am always searching for new pieces," she says.
Martha Stewart Living: 19 tips for perfect laundry every time
Stay in touch!
Don't miss out on the conversation we're having at CNN Living. Follow us on Twitter and Facebook for the latest stories and tell us what's influencing your life.
But shopping for the "mellow metal," as she calls it, doesn't have to feel like an exhausting treasure hunt anymore. Thanks to the renewed interest, both mainstream design shops and specialty boutiques now stock brass wares. And with good reason: The metal, an alloy of copper and zinc, is strong; it won't rust; and it can be forged into a variety of shapes.
Plus, it's relatively inexpensive. "I jokingly call it the poor man's gold," Stewart says.
Unlike the perpetually shiny lacquered brass that was popular in the 1970s and '80s, most pieces today are left unfinished. They may require occasional polishing, but the goal is no longer that blinding glossiness. In fact, not only is brass that shows its age acceptable—it's downright desirable.
"It's the patina that makes it beautiful," says decorating director Kevin Sharkey.
Martha Stewart Living: 35 pantry staples for healthy eating
"Brass is timeless, warm, and inviting. There's a reason people are drawn to it. Adding it to a room is like crowning the space with an amazing jewel."
How to clean brass
Don't overlook a brass find simply because it appears blackened beyond repair. "Removing the tarnish is like discovering gold," says Kevin.
Martha polishes her brass pieces about once a year; every three years, she has them professionally cleaned. For basic maintenance and to make unlacquered brass shine without stripping away the patina, Anthony Cassano of Greenwich Metal, in Stamford, Connecticut, recommends using polish-soaked cloths, such as Cape Cod metal polishing cloths.
Martha Stewart Living: 21 ways to decorate your home on a budget
Stronger, more abrasive cleaners, like Brasso, are best used on heavily oxidized pieces. Test on a small area first, advises Cassano. Lacquered-brass items, meanwhile, should be cleaned with a soft cloth, mild dishwashing soap, and tepid water.
Removing lacquer
Worn-away lacquer may be to blame for brass's formerly bad rap. The clear coating (made of lacquer, epoxy, or urethane) preserves a shiny finish and eliminates the need for polish, but it doesn't wear evenly, resulting in blotches of tarnished metal against the bright lacquered parts. The tarnish cannot be properly cleaned off unless you get rid of the existing lacquer.
Martha Stewart Living: Curb your food cravings with yoga
To do so, Cassano recommends a paint-stripper paste like Klean-Strip. Brush it on evenly to remove all kinds of clear coating.
As always, test on a small patch of your brass item before applying the paint stripper, and consult a professional before removing lacquer from any large or valuable piece.
Fast-tracking patina
Left on its own without any intervention, unlacquered brass will begin to darken in about a month and will continue to take on a deeper patina with age and use, says Jamie Gregg of Colonial Bronze in Torrington, Connecticut. To accelerate this process, he recommends placing the item in hot water, which speeds up the oxidation.
Martha Stewart Living: 15 kitchen shortcuts that will change the way you cook
Another trick, says Cassano, is to place an open can of traditional latex paint next to the unlacquered brass item in an enclosed area for at least 24 hours. The fumes from the paint will quicken the patination process.
Where to find brass
Flea markets are a great place to nab vintage brass goods, but if you'd rather shop from the comfort of your own home, check out these websites. From hardware to furniture, eBay offers the widest on-line selection of brass items. Search terms: vintage, raw brass, unlacquered brass.
Martha Stewart Living: Don't shelve these clever bookshelf decorating ideas
For even more finds, expand your search abroad: Try looking inEngland. And if you know French, go to eBay's French site.
High-end furniture with brass accents, including midcentury-modern pieces by Edward Wormley, Dunbar, and Paul McCobb, can be found at 1stdibs.
Auntie Oti is a valuable source for vintage brass bowls, tumblers, canisters, and bells from India.
Storing brass
How you view aging brass depends on your taste: One person's patina is another's tarnish. Whatever your preference, you should store your treasured objects properly to prevent them from oxidizing so much that they practically become black.
Cassano suggests stowing brass trays, bowls, or tumblers in flannel bags, such as those made to protect sterling silver, or wrapping them in acid-free tissue paper before sealing them in plastic bags. Avoid keeping them in high humidity, and do not use newspaper, he advises, which has acidic ink that will cause oxidation.
Designer Home Decor: Save & Splurge
If you've taken the Design Valentine quiz you've been matched with an iconic designer who makes your heart sing. Ready to take the plunge and invest in some designer home decor created by your Valentine?
Tom Dixon

If Tom Dixon is your design Valentine, that means you love metallics, and contrast in your interiors. Dixon is incredibly famous for his modern lighting fixtures. If you're looking for a piece that will become a coveted design icon in the future, his copper pendant is the where it's at. Not looking to splurge, but still want a piece of Tom? Pick up a fun accessory from his Eclectic line, like these brass paperclips.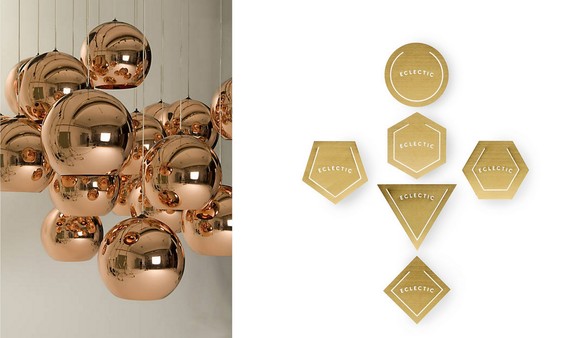 Copper Pendant, Lumens, $735 & AllModern; The Clip, Fab, $16
Kelly Wearstler

Last week I was lucky enough to meet Kelly Wearstler, my personal design icon. Kelly is the queen of modern eclectic interiors. For a statement piece [after all isn't that what Kelly is all about?] consider a piece of her designer furniture, like the Sonnet Chair with its goat hair upholstery. There are more affordable ways to bring Kelly's style into your interiors. For her design home decor look, opt for a custom pillow in Kelly's KATANA fabric that she designed for Lee Jofa.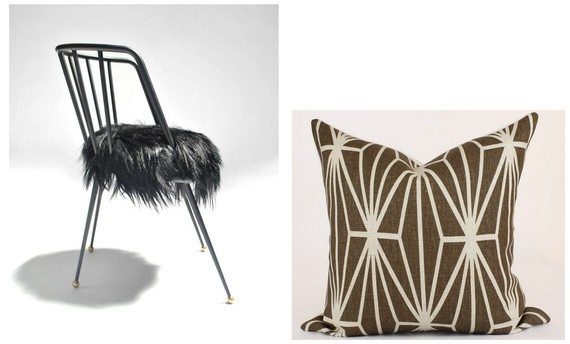 Sonnet Chair, Kelly Wearstler Furniture, $3750; KATANA pillow, Beckwith Textiles, Etsy, $60
Dorothy Draper

Ahhh Dorothy, the mother of Hollywood Glam style. This gal knew how to create surprise and drama in interior design. Check out her work at the Greenbrier Hotel. To score original Dorothy Draper designer furniture, start surfing 1stdibs, or Kindel is the place for new, licensed reproductions of her designs. To save but still get the Dorothy Draper look, consider upholstering a chair, or including a throw pillow with her Brazilliance fabric in your interiors.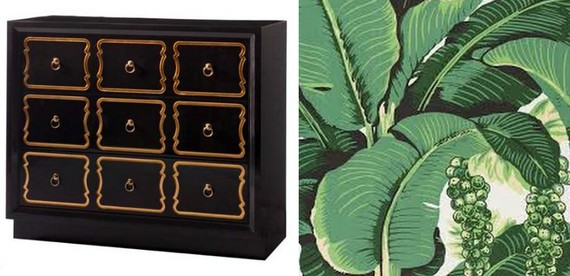 España Chest, Kindel Furniture; Brazilliance fabric, LCD Home
Philippe Starck

If you got matched with Philippe Starck, you're interested in designer home decor that's high drama. One of Starck's most famous pieces, the Ghost Chair, is the perfect piece of designer furniture for your space. While you could get a knock-off the price difference isn't that big. And, in fifty years, when the ghost chair has the same clout as the Eames shell chair does today, don't you want to be an owner of the original? But even on a budget you can indulge in Starck's genius with this fly-swatter he designed for Alessi.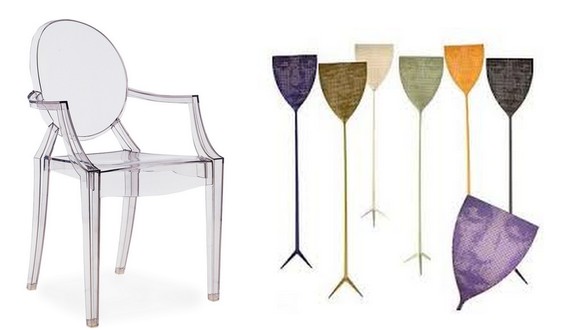 Starck Louis Ghost Chair, Design Within Reach, $410; Fly-Swatter, AllModern, $17.10
Charles and Ray Eames

So you're into Mid-Century Modern design? Sure you can get a lounge or a shell chair if you really want a statement Eames piece. But, that type of designer furniture is a commitment, of both space and money. Why not pick up The Films of Charles and Ray Eames compilation. In addition to their iconic designer furniture, the pair created over 100 short films. Not only are the films fun to watch, but the box will make you look smart and deep on your bookshelf.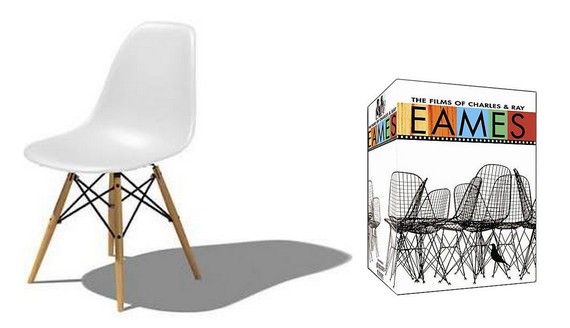 Eames Shell Chair, Herman Miller, $399; Eames Film Collection, Design Within Reach, $80
Ludwig Mies van der Rohe

If Mies van der Rohe is your match when it comes to home decor, you believe that less is more. As far as designer home decor, if you're looking to splurge, why not indulge in one of his iconic pieces like the Barcelona Chair. But if you want original designs, you'll have to pay a premium. There is one way to get Mies van der Rohe on a budget–and you can get an entire house. The LEGO Architecture Farnsworth House is a replica of Mies van der Rohe's famous glass home in Plano, IL.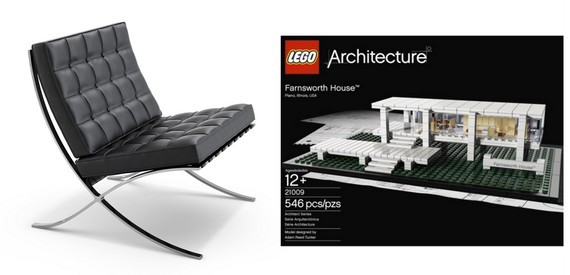 Barcelona Chiar, Knoll, $6906; LEGO Farnsworth House, Target, $57.99
No matter who your designer Valentine is, or how small your budget, you can always find ways to indulge in designer home decor.
Hello world!
Welcome to WordPress. This is your first post. Edit or delete it, then start blogging!

Every Day Low Prices at Wal-Mart